Change of Mind Hypnosis

Weight Loss Simplified:

Looking For A Successful
'Change of Mind?'
Call me today to discuss
your hypnosis goals!
Text or call:

(360) 356-4986

purges all rank high on the list of failed methods for shifting one's weight.
Now, it seems, alternative therapy may have the answer!

Beverley-based therapist, Sheila Granger, who specializes in gastric-band
hypnosis, can claim to have helped almost 3,000 people shed over 61,000
pounds as of 2013!

She is also one of the world's foremost gastric-band hypnotherapy trainers,
passing on her techniques to hundreds of Consulting Hypnotists across the
globe! And now, as of September, 2015, Rose J Woodruff, of Change of Mind
Hypnosis, has received her Certificate of Training from
Sheila
Granger
's
training program and is already working with her clients helping them meet
their weight loss goals!

Now after commissioning a survey of only 60 of the 700 people she has
trained, Sheila has revealed the results which show the staggering success
of her work.

Along with the obvious benefits of weight loss, the survey has revealed
numerous other health benefits being experienced by her clients.

People have recorded reduced blood pressure and blood sugar levels, an
increas in confidence, self-esteem, happiness, more enjoyment of exercise,
stress reduction, loss of anxiety, sleep improvmeent, increased mobility, a
loss of depression and in several cases, an increased libido.

Sheila said: "I give the people wanting to lose weight the right mindset to be
able to do just that! Losing weight is ultimately simple, but, applying the
basic rules, which we are all well aware of, is the challenge.

"It's quite something when you take stock of what has been achieved in the
last few years, I never really had a plan for this to become as big as it has ,
but things have really taken off and I am pleased I have been able to help so
many people.

"When you see just how much weight people have lost, it is staggering! I
really feel like I am winning the war on weight for my clients!"

FOOD, FOOD! This causes a deprivation mentality with a fixed focus on food,
and contributes to the diet being a failed experience in weight loss while
being trained to have their attention so much on food! No wonder people
fail on diets . . . all they will think about is food!

You can be assured that this five week program is not a diet! It actually
involves conditioning your mind with simple rules and behaviors which get
in touch with your original program of eating to live while enjoying what you
eat rather than living to eat! This is a sustainable lifestyle change and it
becomes your permanent programming!

For best results, the only requirement is that you listen to the daily
recordings and attend the five consecutive weekly appointments.

Call Rose Woodruff, CHt, CI, your Consulting Hypnotist, today to schedule
your appointment so she can help you reach your weight loss goals!

Battle of the Bulge:

For millions of people worldwide, finding
an effective weight loss program is
nothing short of frustrating!

Diets, fasting, high-protein, low-carb,
calorie counting and January or seasonal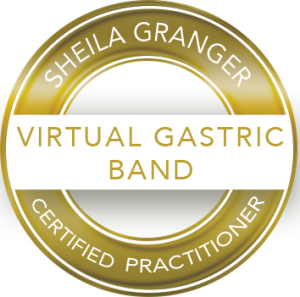 The
Sheila Granger's
'Virtual Gastric Band'
hypnosis program is NOT a diet! Instead, it
is a sensible approach that uses a proven
method of changing your habitual
behaviour around food and eating.

Diets are designed for failure as their
main requirement is the elimination of
specific foods and the introduction of
new foods with the focus always on FOOD,

A Review of My Services:

Click on Photo Above

MEDICAL DISCLAIMER:

All information on this site is of a general nature and is furnished for your knowledge and understanding only.
This information is not to be taken as medical or other health advice pertaining to your specific health and medical condition(s).
Please consult a medical professional for medical advice.

This site is owned by: Rose Woodruff, WA State Registered, Certified Consulting Hypnotist, Certified Health Coach, Life Coach & Trainer
located at: 9330 Vancouver Mall Dr Ste 207, Vancouver, Washington 98662, Clark County (360) 356-4986
She serves all of the SW Washington and Portland Metro Areas as well as online clients.

Rose@ChangeOfMindHypnosis.biz